It is the month of love! Homeowners can choose to reflect the "romance in the air" by installing lovely retro-themed wallpapers. The fun, quirky and stylish prints add a unique personality to your home walls. It is a chance to show off some of your personal taste. Imagine your living room wallpaper showcasing brightly colored vintage cars and buses. Any guest who visits will instantly know your love for cars. Our home wallpapers can be an extension of our personality, giving a tiny glimpse of what lies in our hearts without letting out too much.
Decorative wallcoverings are available in a wide range of styles and designs. From black-and-white designs to bright paisley patterns, homeowners have a varied choice of wallpaper designs for walls. When it comes to depicting romance, vintage wallpapers do the trick. After all, everyone loves classics! Victorian roses posted on a stretch of deep-shade wallpaper just screams old-style romance in today's modern world.
Let's discuss some of the popular wallpaper styles with a retro theme and touch of romance.
Antique Blossoms: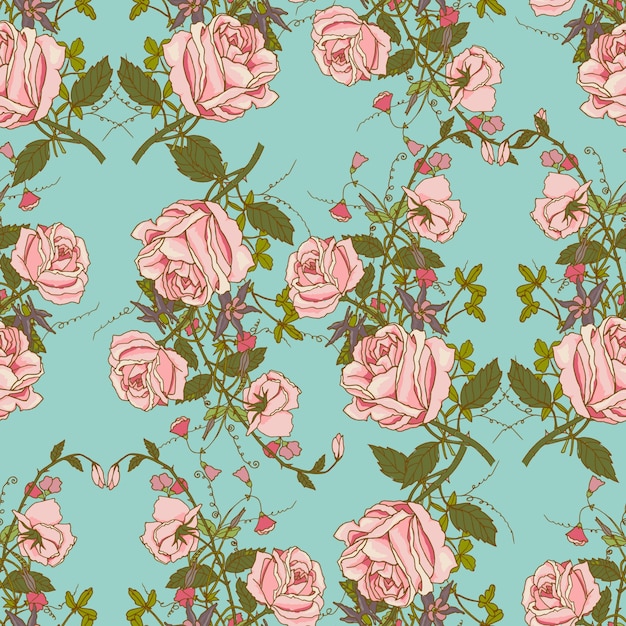 Flowers are timeless. They were in style when your grandmother was a young girl, and they will continue to be out and about even when you are in your dentures. The first step to wooing a girl is to send her flowers. The colorful blooms symbolize romance like nothing other! For homeowners who want vintage-themed living room wallpaper, antique-style floral patterns will look great on the walls. To really get the classic look, keep everything else in the room neutral. Opt for pale furniture and soft furnishings so that the spotlight only falls on the bright and vivid blossoms. Minimalist furniture doesn't let the room look too cluttered.
Analogue Tape-Records:
Remember those days when people used to make mix tapes and gift their loved ones? Nothing spelled love as much as a mixed tape gifted to you by your crush. Music is for the ages. A good song never goes out of style. Your favorite tunes will always make you happy, no matter if it is played in radio or the iPod. For people who like to have fun and quirky wallpaper designs for walls, how about choosing a pattern showcasing vinyl disc records and analog musical instruments. They will look lovely in a study room or the bedroom. Compliment the vintage design with light-wooden furniture and go for a Scandinavian look for your room.
Vintage Cars:
Driving away into the sunset – that is the "happily ever after" every girl dreams of. And if the car you're driving is an old vintage 60's BMW model, the drive becomes all the more memorable and cherished. It is hard to find a man who does not like automobiles. It is like women and flowers – if you have the Y chromosome, chances are you love cars and bikes. So why not show this love through your wallpaper in your home. Vintage cars pasted on a wide stretch of the wall look both eye-catching and distinctive. It adds character to your room.
Black-and-White:
When I think vintage romance, the first name that comes to mind is Audrey Hepburn from Breakfast at Tiffany's! Black-and-white scenes really reflect an old world charisma and portray romance belonging to a bygone era. Real die-hard romantics will swear that contemporary movies do not hold a candle in front of the magic of these old classics. Homeowners may choose to declare their love for the black-and-white era with vintage monochrome wallpapers.
Excel Wallpapers offers a wide choice of designs and patterns with their wallpaper collection. Just browse through and find your own preference.